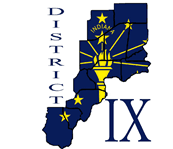 Attendees will be given an overview of the incident command system and the exercise will challenge participants to utilize skills learned during the provided ICS training. The exercise will involve a scenario that engages each facility in critical decision making and district wide support functions.

Who this course is for
District 9 Healthcare Coalition members that may take a role in hospital command centers or works with the public
What you'll learn
Preparation for dealing with a disaster situation.
Attendees practice what they learn based on a natural disaster with escalating events.
[divider]
Course Dates and Locations
More dates and locations will be added as they become available.
October 19, 2021
9am at Decatur County Hospital (Greensburg)
November 4, 2021
9am at Harrison County Hospital (Corydon)
[divider]
Course Registration
Registration for these courses is available only to members of Indiana District 9 Healthcare Coalition.