Spring and Summer 2023 ICS trainings exclusively for District 9 partners and members
Before registering…
• It is recommended all attendees complete these prerequisites: IS-700.a, IS-100.HCb, and IS-200.Hca certification
• Attendees should have access to their facility's Emergency Operations Plan
• This course is only open to Indiana District 9 partners and members
• All classes are 9 a.m. to about 4 p.m., EDT
Who this course is for
District 9 Healthcare Coalition members that may take a role in hospital command centers or works with the public.
What you'll learn
Preparation for dealing with a disaster situation.
Attendees practice what they learn based on a natural disaster with escalating events.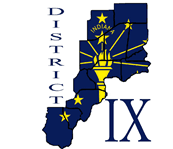 Multiple dates and times will be available across the region. Some dates have been announced below.
Attendees will be given an overview of the incident command system and the exercise will challenge participants to utilize skills learned during the provided ICS training.
The exercise will involve each facility in critical decision-making and district-wide support functions.
District 9 HICS Registration
"*" indicates required fields
Upcoming course dates, times, and locations
MAY 12, 2023
9 a.m. – 4 p.m. EDT
St. Elizabeth Hospital
600 Wilson Creek Road
Lawrenceburg, IN 47025
MAY 15, 2023
9 a.m. – 4 p.m. EDT
Harrison County Hospital
Baumgart Room
1141 Hospital Dr. NW
Corydon IN, 47112
MAY 31, 2023
9 a.m. – 4 p.m. EDT
Ivy Tech
Rm 1406
1 Ivy Tech Drive
Batesville, IN 47006
JUNE 6, 2023
9 a.m. – 4 p.m. EDT
Decatur County Memorial
720 N Lincoln St.
Greensburg, IN 47240
JUNE 29, 2023
9 a.m. – 4 p.m. EDT
Norton King's Daughters' Health
Oak Room
1373 SR-62
Madison, IN 47250
DATE TBD
Clark County Hospital
1220 Missouri Ave.
Jeffersonville, IN 47130