Summary
In 2018, Fairbanks Recovery Center, a mid-size drug and alcohol treatment facility in Indianapolis, identified gaps between the skills of their staff, their time, and requirements for OSHA and Joint Commission certification.
Numerous other outside companies were conducting bi-annual surveys and reviews of their facility, but they were leaving Fairbanks with over $160,000 in work to do to meet compliance on everything from fire code to bylaws without much insight into what to do next.
"Vantage Point Consulting's assessment came in, did a full review, determined the sore spots, what we needed to do, and gave us quick, immediate attention," says Tobyn Linton, Fairbanks Director of Quality and Risk Management and Corporate Compliance. "From that assessment, Vantage Point helped us prioritize what needed quick attention, what could use a little less, and a few 'good ideas' for good measure." The result was a clear plan of what to do and how to protect patients and staff going forward.
About Fairbanks Recovery Center
Fairbanks has approximately 300 full and part-time employees across three campuses in the Indianapolis metro area. A primary hospital facility in Indianapolis has a recovery center that together serves 30-40 inpatient and 35-45 patients a day with outpatient drug and alcohol recovery services.
Smaller satellite "lodges" operate in Carmel, Plainfield, and Shelbyville for men and women and add an additional 30-40 patients. Various recovery programs operating through the day all week long add another 100-150 patients in and around Fairbanks facilities.
"Our biggest focus is to serve people recovering from alcohol and drug use, whether that's moderate or severe. We have different levels of programming and want to make sure that what we offer is helpful and documented," says Linton. "We have to worry about our environment, the care patients receive from medical staff and nurses, and being compliant with any rules and regulations as the facilities goes," he adds. Fairbanks is assessed against the same criteria as a traditional medical hospital facility. 
Life Safety challenges resolved with help from Vantage Point
Joint Commission, among other accrediting bodies, reviews Fairbanks for health and safety. This includes:
Fire suppression systems

Continuity of operations plans

Bylaws with clear governance

Policies for managing volunteers

Fire, tornado, and other emergency drills

OSHA regulations and postings clearly visible to employees

Food and drug handling
Roland Hamilton is the Facilities Manager and Safety Officer for Fairbanks and often knows what needs to happen, but time is scarce. "My duties are split, with about 20% dedicated to facility safety. I save that time by contacting Vantage Point."
A previous contractor inspecting fire suppression systems at Fairbanks left a report of $160,000 in work to do and still missed some critical elements Joint Commission would notice above and below the ceiling. "We had a fire door that was changed by a contractor, but they didn't put the same fire rated door in," says Hamilton. "Troy Jester at Vantage Point immediately noticed that door when no one else did. Almost certainly because Troy has worked as a firefighter for years." 
"During a walk-through with Vantage Point, we noticed a grinder that wasn't locked into position on a cart with wheels. We've since made a change to that. Some of these simple pieces that are low-hanging fruit we thought we were doing right."
Linton adds, "In our kitchen, the hood fire suppression system was held with plastic pieces instead of metal. A placard was missing over a fire extinguisher in the kitchen. All things we remedied that our teams are now better trained to notice themselves."
"With Vantage Point, I don't have to hire one place for OSHA training and another for fire audits and another for life or food safety and so on. Vantage Point does all of that," says Linton. 
Flexible on costs, not on standards
Vantage Point's depth and breadth of service for healthcare providers mean facilities can receive a lot of training and review for as much as they're able to spend. But in times when budgets are leaner, Vantage Point was "incredibly accommodating" to Fairbanks. "There was no compromise on the integrity of the process or the rules. But we see flexibility from Vantage Point in how to adapt our budget to what needs to get done," says Linton.
"I've been really pleased with how Vantage Point adds on to the things we need. We're a standalone facility. We're not affiliated with a large parent company that can subsidize what we're doing. We're a nonprofit, and when Vantage Point came to us and asked, "What if you had a safety agreement that says we can provide you with year-round help, done as a monthly visit so we don't have to piece together policy reviews" we jumped on it," says Hamilton. "That has been key for budgeting and flexibility and now we have year-round support."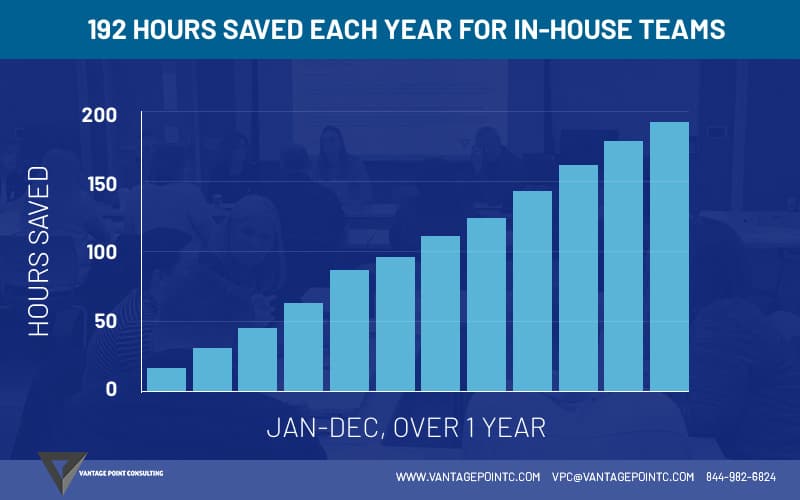 192 hours saved annually giving a further reduction in violations and expense
Since working with Vantage Point, Fairbanks has seen a reduction in overall violations with Joint Commission. "On this most recent survey, thanks to the increased knowledge of our own staff, we captured 50% more issues that we previously didn't know or understand. We captured those before a surveyor did, and we captured those for the benefit of patients and staff," says Hamilton.
"Our most recent survey showed no immediate threat to life or immediate harm, whereas before in 2017 we had a fair portion in the moderate likelihood of harm in a wide scope," says Linton. "We started with Vantage Point in February 2018, just a few months after that survey."
"I alone save at least 16 hours a month. Now my facilities team works through sections of the building each week doing our own audits and life safety reviews. That's huge," says Hamilton. Vantage Point continues to provide support as federal and state regulations continue to change. 
Linton adds, "We're in a position to know what we didn't know before and now. Vantage Point's wide knowledge base has helped us immensely since that initial assessment."