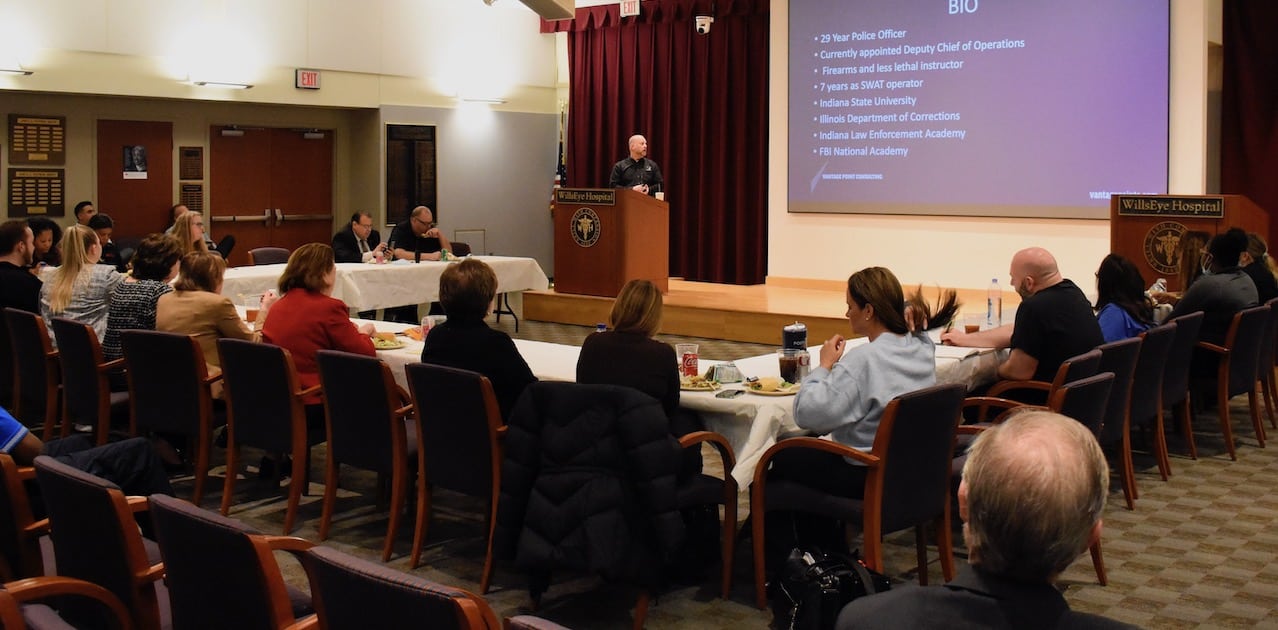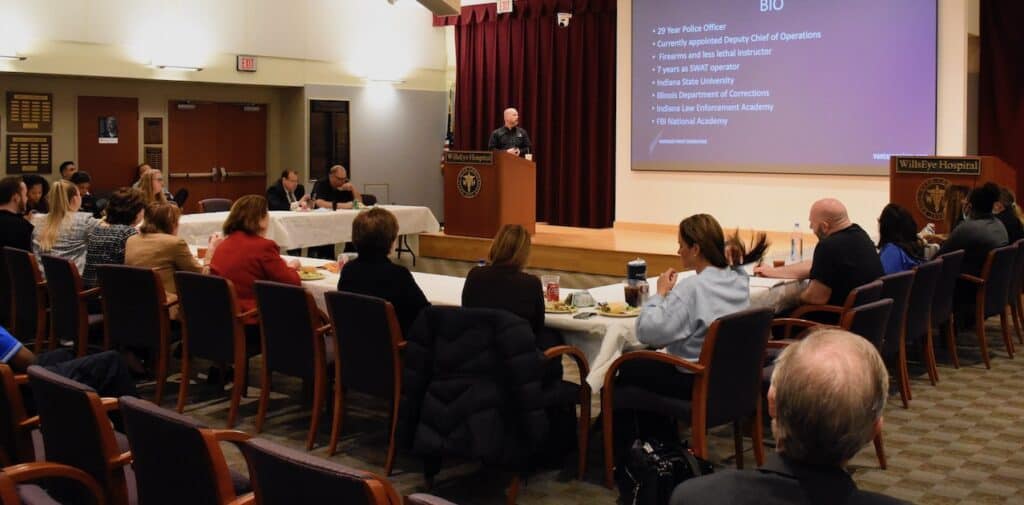 1500-1800 visitors a day at Wills Eye Hospital
70 staff and leaders trained in one day
2 90-minute de-escalation training sessions
Highlights
Challenges
Thousands of unknown people pass through and near the hospital daily
Nearby hospitals recently underwent lockdowns as threats targeted those facilities
Needed a way to provide real-world de-escalation training from an experienced instructor with respected credentials
Solution
VPC spoke with hospital leaders and staff about needs, facility layout, and risks
Personalized sessions lasting about 90-minutes for nurses and another for hospital leadership provides in-depth and nuanced de-escalation instruction
Results
Some staff are trained and exposed to de-escalation techniques for the first time in their careers
About 70 staff members received instruction, some with the intent to carry what they learned to their subordinates
Leadership team begins examining weaknesses in their security and ways to bolster response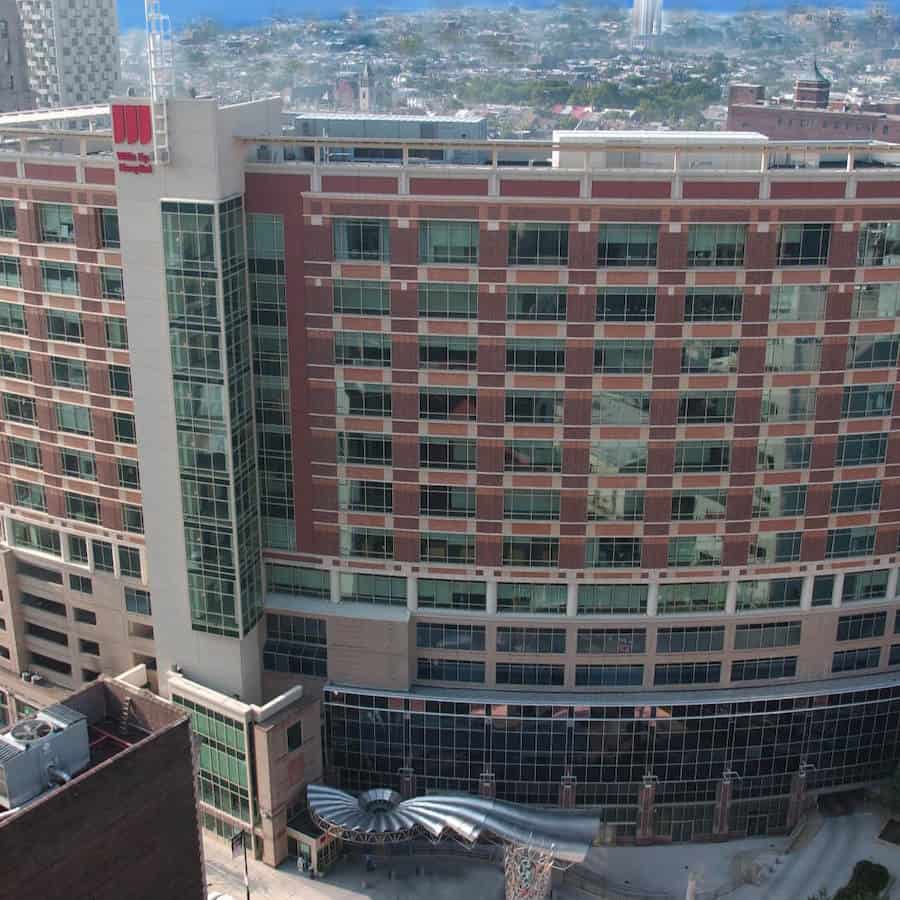 Challenges at Wills Eye mirror many urban, high-traffic hospitals and healthcare facilities' risks
Vinit Awatramani, the HR compliance manager and co-leader of emergency management initiatives for Wills Eye Hospital, works among a small team where it's always "all hands on deck". In conjunction with Wills Eye's Facilities Manager and their leadership team, the ophthalmology hospital felt there was a gap in the staff's de-escalation training, explaining:
"We see our share of disgruntled visitors, we treat inmates, and we're located in a busy location. It has all the elements for something to happen."
Wills Eye Hospital is the nation's leading eye health and ophthalmology hospital. The hospital sees about 1,500-1800 people a day passing through its lobby. Their location, status, and specialization guarantee a mix of visitors, patients, and people passing through.
Awatramani adds, "We're trying to be proactive instead of reactive to provide our staff with the tools they need to handle any sort of issues that might arise from conducting day-to-day operations. We're trying to stay ahead of the curve, but a neighboring hospital had an active shooter situation that transpired between two employees, and we recognized we needed to have a response to that. "
Additionally, Wills Eye is located in Center City Philadelphia near Independence Hall and other high-traffic tourist areas and public spaces.
"If there's any volatility or civil unrest, we're in the fold. Our location here in a major metro area is a primary concern," says Awatramani.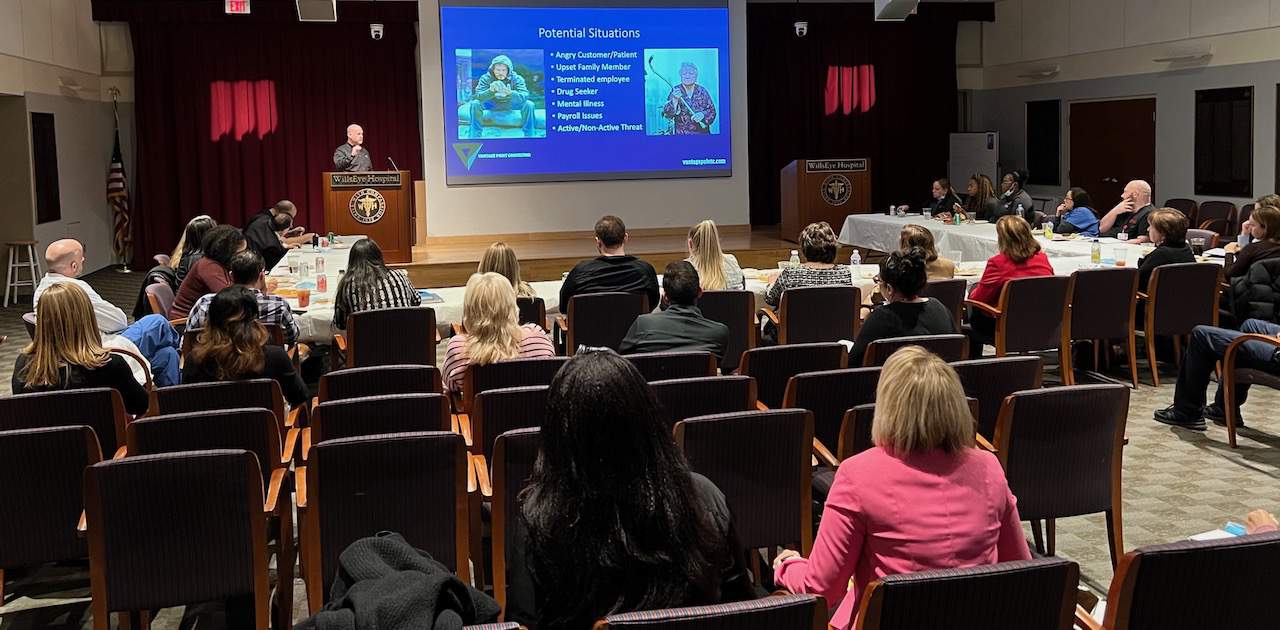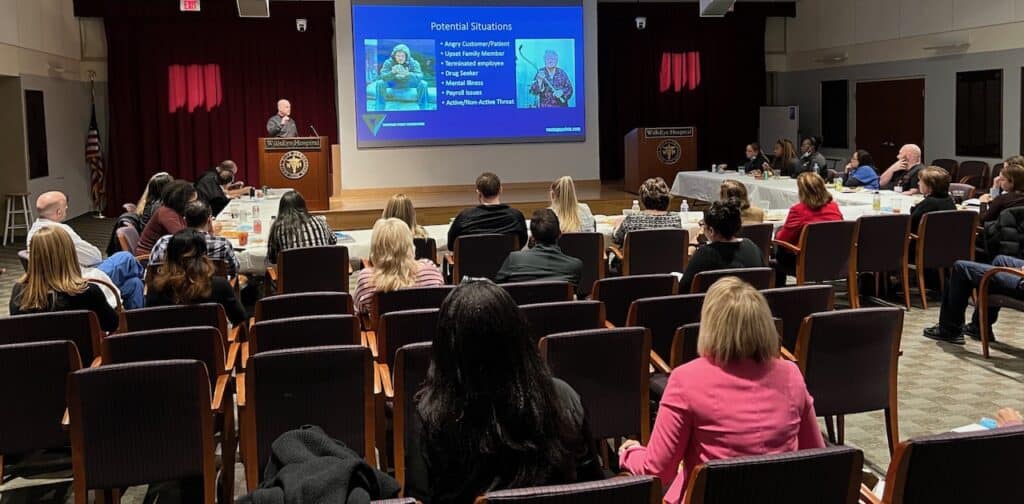 Personalized active threat de-escalation techniques tailored for hospital nurses and leadership
Vantage Point Consulting was asked to provide two active threat/shooter de-escalation trainings to Wills Eye staff. Dwight Frost, VPC's Security Branch director took the lead in organizing a morning session attended mostly by nurses and an afternoon session for hospital management. Each session is designed to be about ninety minutes, depending on questions asked by attendees.
Instead of launching into a canned PowerPoint presentation designed to work virtually anywhere, Frost ensured this session met Wills Eye's unique needs.
"We had multiple conference calls leading up to the training, just to ensure [Dwight was] capturing the thing we want to see out of the training and any specific needs," says Awatramani.
The team spoke about the hospital's resources, unique challenges, and more before the sessions began.
"You never know what the level of engagement is going to be," says Awatramani, "But Dwight was great at making sure he had a captive audience, and there were tons of questions about practical implications. That was great to see the involvement from everyone. People really cared about the issue we were covering. It was great doing these to have that level of involvement." 

Further adding value to Wills Eye's threat response and de-escalation training, Frost took the time to inspect the facility during the break between the morning and afternoon sessions.
"
We were fortunate that we had some time in-between sessions, and Dwight walked the facility getting feedback and pointing out some areas of vulnerabilities to tighten up our security measures. That influenced how we approach our active threat policies and several following committee meetings. That in-between time was super crucial to revamping our process," says Awatramani.
Nurse leaders and hospital management take their de-escalation training out on the floor
Several nurses received threat de-escalation training for the first time in their careers. "A lot of our nurses have a fair bit of de-escalation training since they circulate through other larger hospitals, but we do have folks that are new to healthcare that haven't had any introduction yet in our active threat policy and best practices," says Awatramani.
"That manager training is key," he adds, "Because they're the ones going to deliver this to future employees and how to move forward. We had senior leadership and front-line management, so in terms of organizational changes, we wanted senior leadership to be there. Obviously, they're the ones that have the biggest role to play. But also Dwight's training was applicable to front-line managers on the ground."
Perhaps the most important result was the authority and regard Frost brought to Wills Eye. With over three decades of law enforcement experience, his words carried seriousness and depth.
"It was just great to have somebody like Dwight," says Awatramani. "A lot of people pay closer attention when they hear Dwight's background. That added to having a compelling discussion with our staff. Just the ability to have access to Dwight was huge for us. In addition to having [VPC President] Troy [Jester] be our primary go-to for emergency management procedures. The ability to have options with people with varying experience mattered."
VPC has also provided Wills Eye with Certified Healthcare Emergency Management training and Safety Professional training in the past. VPC has also helped write portions of Wills Eye's Emergency Operations Plan, including COVID and Civil Unrest emergency plans, and After-Action Review reports that help keep the hospital among the top-ranked ophthalmology hospital in the world.
"I have nothing but positive things to say about Vantage Point. Working with Troy and Dwight has been excellent for Wills Eye Hospital."
Prepare your hospital or healthcare facility with better active threat de-escalation policies and training
Start training your team and staff on how to spot potentially threatening situations, de-escalate patrons or customers, and how to respond to larger threats.
Contact VPC today to request a quote or inquire about de-escalation training.