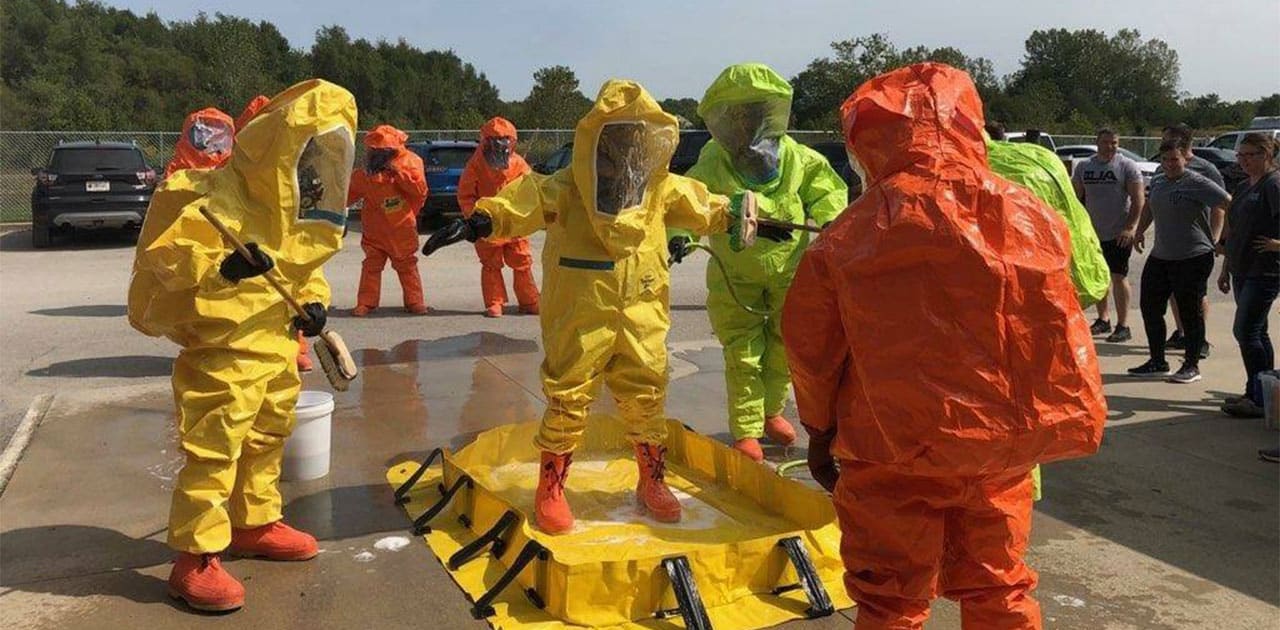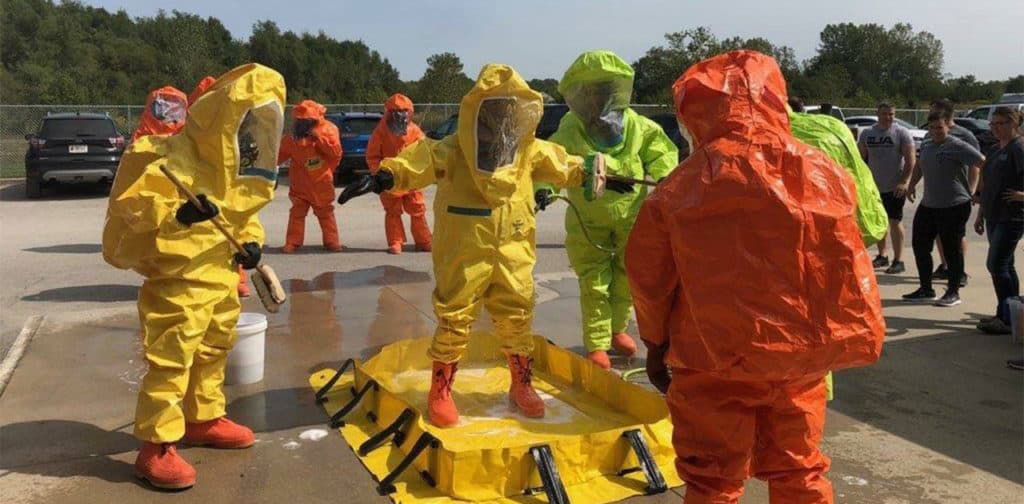 Industrial and commercial hazardous waste operations that generate small, medium, or large quantities of hazardous waste should expect additional audits as the EPA and OSHA begin increasing enforcement.
And many commercial and industrial waste handling programs are overseen by on-site facilities or safety managers with limited training or practice. If your team has no trained EHS managers or staff in need of a refresher, VPC offers scalable HAZWOPER training courses.
Hazardous Waste Operations Training
The Hazardous Waste Operations and Emergency Response course offered by Vantage Point Consulting typically comes in 24 and 40-hour sessions. Both courses provide guidance and skills for the safety of general site workers who handle or are exposed to hazardous waste operations and health hazards.
For material handlers at commercial and industrial facilities, these courses help staff respond to and control a spill or release before it can do significant damage or harm to life or property.
If your business involves any amount of these hazardous materials, your team can benefit from HAZWOPER training:
Ignitable waste
Corrosive waste
Reactive waste
Toxicity Characteristic waste
Acute Hazardous waste
Toxic waste
HAZWOPER training is foremost an emergency response training.
Employees who have HAZWOPER training and qualified practice are better at spotting hazardous situations, preventing spills and uncontrolled release. They're also better equipped to safely help other workers in the event of a spill.
Read more on Vantage Point's 40-hour HAZWOPER training, 24-hour HAZWOPER training, and other HazMat courses.
Emergency response after an uncontrolled release
A good rule for understanding when a spill goes beyond a small incidental cleanup is, "if you can step over the spill, you can clean it up. If you can't, evacuate the area and call in your safety team or a HazMat response team.
The exact kinds of waste are listed in the EPA's Code of Federal Regulations. But some common waste products found in Indiana's factories and commercial industries include industrial solvents, oil or fuel spills such as gasoline, propane, or kerosene, chlorine, carbon dioxide, argon, dyes, sulfuric acid, and propylene, which is commonly used in plastics and packaging.
Indiana's factory farm and industrial agriculture operations using large quantities of fertilizers and repellants are also common.
These products not only pose a risk to the people working near them if a spill happens, they're also some of the most dangerous situations firefighters have to respond to.
HAZWOPER training is needed if your employees are:
Exposed to high levels of poisonous substances
Exposed to chemicals or conditions that pose a risk of fire or explosion
Exposed to oxygen-deficient atmospheres (less than 19.5% oxygen)
Leading evacuations due to chemical atmospheres or oxygen-deficient conditions
Performing confined space entry
Supervising workers exposed to any of these dangers
Vantage Point's HAZWOPER training includes lock-out/tag-out procedures, donning and doffing of personal protective equipment (PPE), the use of respiratory protection, and can encompass on-site training.
Online HAZWOPER training courses do exist, but they are poor substitutes for training how to put on PPE, communication standards, and assessing environmental hazards. Consider online courses for annual refresher training.
And because training can save lives, prevent uncontrolled releases before they happen, and help more team members spot unsafe situations, HAZWOPER training can save employers thousands or millions in fines, lawsuits, and damages.
Evaluating trainers and supervisor training
Neither OSHA nor the Indiana Department of Environmental Management certify HAZWOPER trainers. And because the training course, material, and options can be customized to fit your facility or company's needs, it's important to evaluate your trainer.
Ask your instructor:
Do you offer HAZWOPER supervisor training? This is sometimes called "train the trainer" and how their process ensures supervisors are attentive, qualified, and ready.
What, if any, Indiana HAZWOPER certification or accreditation they hold.
What their classroom training requirements are.
How many general site workers they can accommodate at one time.
Their past experience and background in HAZWOPER training that qualifies them to understand your business' needs. VPC's trainers have worked for decades in fire departments, first response teams, and on-site.
Can you train staff on confined space operations and how? For large operations that can support it, VPC can provide some forms of confined space training.
Does your HAZWOPER training include Bloodborne Pathogen (BBP) training? VPC includes components of this in existing OSHA 10 and 30-hour courses and can incorporate this into hazardous waste response training.
Vantage Point Consulting has helped general industry workplaces, healthcare facilities, and emergency response personnel for two decades. Our work requires us to understand and keep up with OSHA's changing regulations and standards. In addition, our trainers have years of experience and continue to work in Indiana fire departments and first responder teams.
To get started, call VPC at (844) 982-6824, email vpc@vantagepointc.com, or request more information online.